eSport Simulation recommends these driving and flight controls to make your simulation experience more comfortable. Each of these leading edge options has been tested and has received our approval.
Driving Controls
Logitech
Logitech provide well engineered driving controls aimed and the entry level sim driver. wheels offer a gear driven force feedback system which can feel a little 'jerky' compared to some of the more advanced wheels.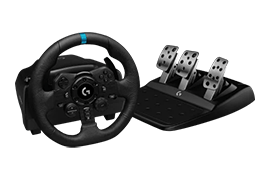 Relentlessly engineered for the perfect driving experience, Driving Force by Logitech G takes the latest racing games to the highest level. You simply haven't experienced racing simulation if you haven't grabbed your supercar by the wheel.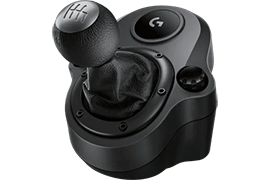 With a solid steel gear shaft, Driving Force Shifter is constructed of quality materials for precision racing and long-lasting reliability. The knob and boot are covered in high-quality, hand-stitched leather, giving it a look and feel similar to a high-performance race shifter and giving you a more comfortable, durable experience.
Driving Controls
Thrustmaster
Thrustmaster offer a range of options from the entry level sim racer to the intermediate enthusiast. Their wheel feature a belt/pulley system for force feedback which offers a smooth driving experience
Thrustmaster presents the new 1080° force feedback T150 PRO racing wheel. The 150 PRO Force Feedback is the result of many years of experience and is the combination of our advanced technologies. It is officially licensed for PlayStation®4 and PlayStation®3 systems, and is also compatible with Windows.
Officially Licensed Gran Tursimo T300 RS GT Racing Wheel
3-Pedals wide pedal set 100% metal pedals and internal structure Fully adjustable Includes optional Conical Rubber Brake Mod
The first pedal set from Thrustmaster incorporating Load Cell force sensor technology, for ultra-precise braking in racing games!
Realistic, high-end gearbox. Multi-platform: PC / PS3™ / PS4™ / Xbox One
Hands on Sparco and rally world thanks to Thrustmaster TSS HANDBRAKE Sparco Mod + ! Progressive handbrake and sequential shifter by Sparco: become the new racing master on console ! Now compatible on Xbox One, PS4 & PC (Windows 10, 8, 7) !
Fanatec offer high end driving controls for the enthusiast. Their force feedback systems range from belt and pulley to direct drive which provide an accurate feedback for your racing experience.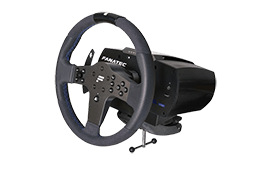 The CSL Elite Wheel Base V1.1 delivers advanced force feedback via single belt drive and powerful servo motor
The CSL Elite Pedals LC come as a complete set, extended with the loadcell brake unit providing a third pedal
The ClubSport Shifter is entirely made of metal, which equates to mean: built-in quality, durability and reliability.
Slide through the corners with the help of the ClubSport Handbrake V1.5​, and perform perfect drifts in rallye and drift simulations.
Logitech G professional-grade flight simulation gear is designed to be fully modular and customizable. Build out your favorite cockpit whether you're a starting novice or an advanced air pilot.
X52 delivers precise flight simulator operation, employing a multifunction LCD for easy access to an astounding minimum of 105 programmable commands. Coordinate your flight plan with clock and stopwatch function. Fly long comfortable stretches with adjustable handle to accommodate a wide range of hand sizes.
FLIGHT YOKE SYSTEM + FLIGHT RUDDER PEDALS
PRO-GRADE YOKE: Logitech G Flight Yoke utilizes a durable stainless steel shaft with precision bearings for smooth, predictable elevator and aileron control.
PRO-GRADE THROTTLE QUADRANT : All levers are fully programmable and detachable, so you can configure any combination of throttle, flaps, mixture or propeller pitch.
PRECISE RUDDER AND BRAKING CONTROL:The Rudder Pedals' fluid motion enables accurate command over your aircraft, while differential braking provides independent control of the left and right toe brakes.
Flight Controls
Thrustmaster
Thrustmaster offer a wide range of flying controls to satisfy the most discerning flight simmer. We recommend their joysticks, throttles and flight pedals which can be purchased from the lins below
Get your hands on the very first Thrustmaster Civil Aviation (TCA) pack, including a sidestick and a throttle quadrant — ergonomic replicas of controls from the world-famous Airbus A320.
HOTAS joystick: precision and all controls at your fingertips T.16000M FCS (Flight Control System) flight stick featuring H.E.A.R.T magnetic precision technology + TWCS (Thrustmaster Weapon Control System) throttle featuring S.M.A.R.T technology Intuitive and natural: feels just like sitting in the cockpit!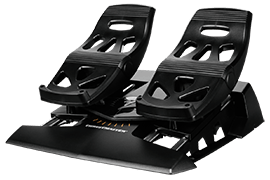 THE TFRP RUDDER–Thrustmaster Flight Rudder Pedals: DESIGNED FOR ALL USERS Compatible on PC with all joysticks on the market Also compatible on PS4™ with the T.Flight Hotas 4 joystick*/** and on XBox One™ with the T.Flight Hotas One joystick